A plumber, no doubt, can be the savior of your awful day. You do not need to delay your plumbing issues when you are searching for South Miami Plumbers if Plumbers 24x7 are here to help you.
At Plumbers 24x7 we are dedicated to providing the highest-quality plumbing services to our customers. We have been serving South Miami, Florida for the last 10 years.
We are partnering with Miami 305 Plumbing to provide better quality services in the area of South Miami. Please call (305) 224-8404
Our South Miami Plumbers at plumbers 24x7 understand that you need a quick response and top-quality work. If you need immediate plumbing service or want to schedule an appointment, plumbing contractor in South Miami can be your first source of help.
We have a team of professionals with years of experience. We provide various plumbing and repair services, from clogged drains, cast iron replacement to the dripping pipes and water heater installation. South Miami Plumbers also provide installation and remodeling services for the kitchen and bathroom.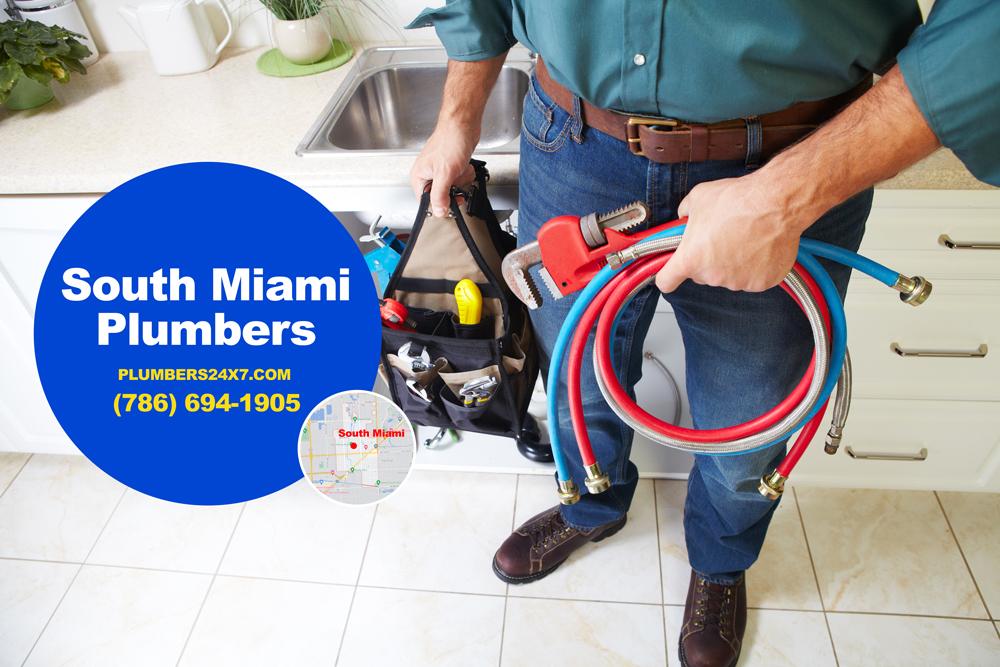 Are You Looking for Licensed and Insured South Miami Plumbers?
The licensed team of our South Miami Plumbers at Plumbers 24x7 is available at your service seven days a week and operates 24 hours a day. We are ready to help you with the repair requirements of your building.
Our licensed plumbers have all the right tools and equipment to complete any plumbing service efficiently.
We provide services to both commercial and residential properties. We work with contractors, designers, and other professionals and provide satisfactory results.
Our team has the knowledge and skills necessary to provide repairs and maintenance of your appliances. Our professionals will help you with the best plumbing services than anyone else.
Here is the list of services offered by professionals of South Miami Plumbers at plumbers 24x7
Unclog Sink
Clean Drain
Replace Water Line Pipes
Faucet Installation
Fix Faucet
Valve Replacement
Shower System Installation
Repair Toilet
Toilet Installation
Why Customers Choose our Company in South Miami?
If you are looking for plumbing services, then something has surely gone wrong in your house. At plumbers 24x7, we understand how severe a plumbing issue can be. Thats why we try to find the way to reach you as soon as we can.
Reasons for Hiring South Miami Plumbers
Safety- Plumbing can be dangerous for you if you do not have the skills to manage the operation, leading to serious consequences. However, with us at your service, you can rest assured of your safety.
Experience- Our team has years of experience, and we understand the in-depth issues and resolve the problems accordingly.
Work with the Right Tools- One of the primary reason customers trust plumbing contractors in South Miami and hire them is that we use the right tools and equipment to deal with plumbing problems and do not make clients wait. You can rely on us for the work, and we will not disappoint you.
Reliable Services- We is fully aware of our job and offer reliable services and understand your problem.
Cost-Effective- An ultimate reason for hiring Plumbers 24x7 is that we provide our clients with affordable and reliable services.
Frequent Asked Question
1. Why is it Important to Hire an Experienced Plumber for the Job?
The experience of a plumber is an important factor that must be kept under consideration while hiring any professional for the task. Through experience, the plumbers get to know the issues property and can fix them more easily than someone with only knowledge and no experience.
2. How to Find a Professional Plumbing Company?
To ensure that the plumbing company you are about to hire is experienced and licensed, check out their website, have a look at the portfolio, and read plumbing reviews and testimonials. It will help you find a professional plumbing company.
3. Why Should I Hire a Licensed Plumber?
It is very important to hire licensed plumbers if you face a plumbing crisis because they have the knowledge, experience, and tools to complete the plumbing service efficiently.
Whoever is hired for the plumbing work will take care of important parts of your house, including heater, toilets, pipes, and drains. Therefore, you cannot ignore the importance of a licensed company.
They have legal permission to provide plumbing services. They are aware of building codes and ensure that all the plumbing work carried out on the property is in accordance with state and country regulations.
Testimonial
Tom Herbert
I highly recommend South Miami Plumbers for any service. The cost is affordable, and the technicians are friendly, efficient, and respectful. We had a couple of water faucets, and they did the job beautifully. I will surely contact them again.