Are you looking for a plumbing company able to unclog toilet in Broward?
We strive to offer the best unclog toilet services to our clients in Broward County. Call Plumbers 24x7 today +1 (786) 694-1905.
Unclog toilet can be a very difficult problem to try and solve for many people. Sometimes it is necessary to call in an emergency plumber to unclog a toilet for you. If your toilet gets plugged or clogged somehow there are many things you can try at home to unclog a clogged toilet. Here are some solutions that have worked for me when I needed to unclog a toilet in my bathroom.
One of the first things I did when I needed to unclog toilet was using a plunger. Using a plunger to unclog a clog is one of the best solutions, but unfortunately it isn't always the best solution. The only problem with using a plunger is that it takes a lot of force to get the plunger down deep enough to unclog your toilet. Also, sometimes you damage your pipes if you overuse a plunger on a clog.
When I had a clogged toilet and needed to unclog it, I would also try using liquid soap and water to flush the toilet. If liquid soap and water don't unclog your toilet bowl, then you may need to try a different method to unclog the toilet. I have even used ammonia based cleaning agents to unclog the toilet. This method seemed to work, but it left a nasty ammonia odor on the bathroom floor.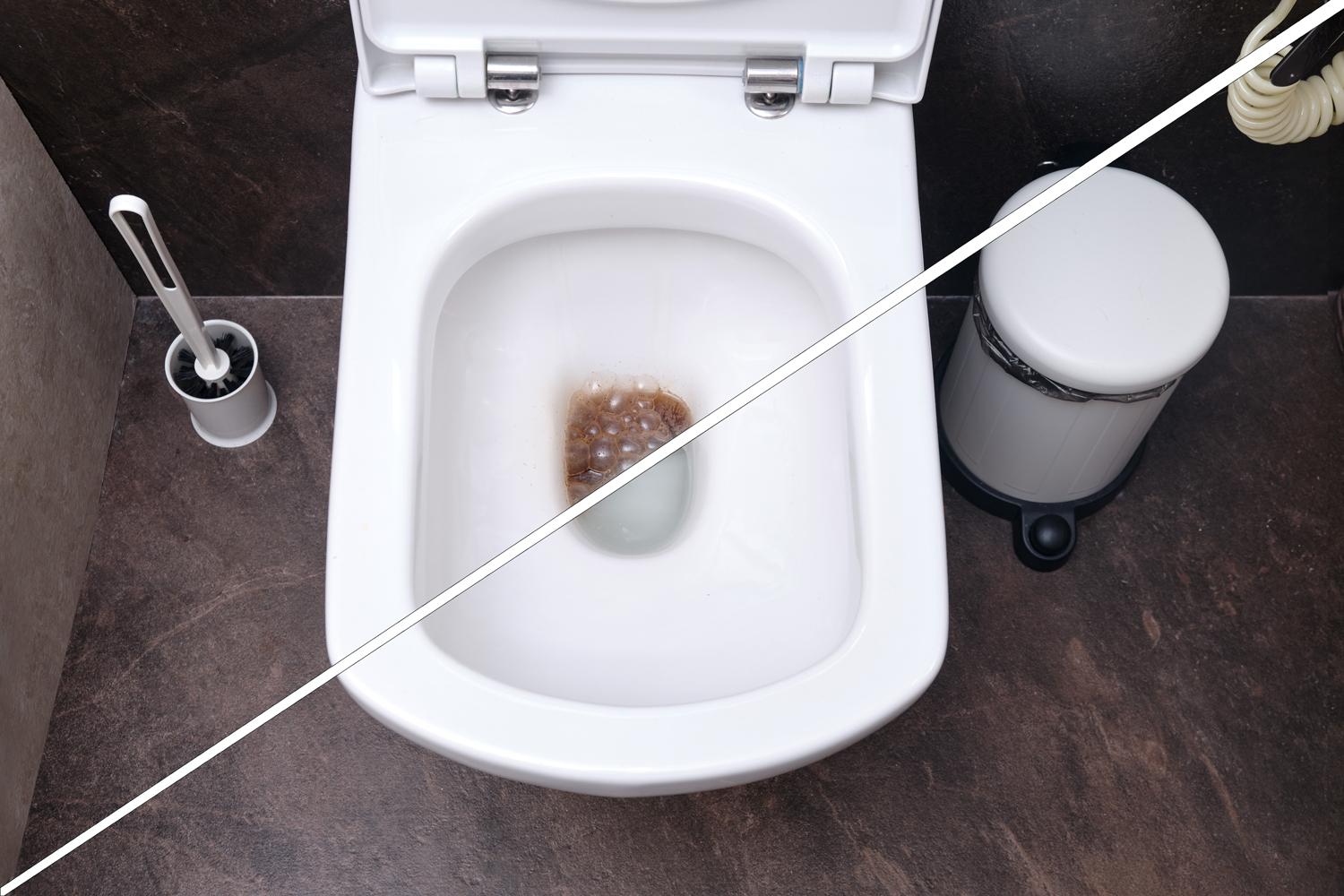 What should I do if I can not unclog a toilet?
When non of the methods work then you have to call a professional plumber who understand what to do and has proper tools to use to unclod a toilet. When the problem is in the toilet most of the time with a simple tool that plumber use the clog will go away and it will take no longer than 10 minutes to get it done. But it can turn more complicated.
Cases when it is needed more than a simple solution to unclog a toilet
For example a popular case comes when our kids through a toy into the toilet and it gets trap beteen the toilet bowl and the wax ring area. In this case the toilet needs to be removed to be able to unclog the toilet.
Another case is when the clog goes further and it is not in the toilet itself but in the drain line. In that mostofthe time we use a K60 snake or any other popular snake most of them sold by Rheem a very popular plumbing tools brand, which allow use to work and remove the clog from the drain line.
What can cause a toilet clog or drain clog?
Toys
Small things (One day we removed an small sugar blod tester from a toilet)
Wipes
Paper (If the drain is an old cast iron, dropping a lot of paper into the toilet forsureat some point will cause a clog)
Tree Roots - The tree roots can cause severe damages in out drain pipes
Greese Deposits
In the following blog we are more extensive about what could cause a toilet or drain clog.
Frequent Asked Questions about unclog toilet and drain in Broward
1. How do I know my toilet it is clogged and not my drain?
A: There is a simple test you can do if you are not sure which one is clogged. If you have shower open the shower for one minute, otherwise if you do not have shower open a sin or vanity that youshould have in your bathroom. If the toilet make like a noise or the water starts coming up through your shower, then your clog it is not only on your toilet but also the drain is clogged.
2. Some water spreading around the Toilet could be clog symtoms?
A: We have received calls from people asking for a leak detection and when we requesta video or come to the property we discover that the problemis caused by a clog.
3. How much cost unclog a toilet in Broward?
A: The price to unclog a toilet in Broward goes from $180 to $280.
4. Does it cost the same unclog a toilet than a drain?
A: Main Drain Line cost more than a toilet. The price to unclog a toilet in Browardd gros from $300-$400. Always it dependes of the our you canned.
Unclog Toilet cost in Broward
Sometimes we just comeand unclog the toilet and spend some minutes identifiying the problem by phone, some minutes coming to theplace and some minutes unclogging the toilet. When thats the case and it is a house and not an apartment, the unclog toilet priceuseto be $250-$280.
There are cases when something is stuck in the toilet and we need to remove the toilet, well when thats the case, the price goes from $350-$400 to unclog the toilet.
If we come and the problem it is not a clog in the toilet but in the drainage, then here we are talking about another matter. When thisisthe case the price starts at $325 if the toilet doesnot need to be removed. Apartments also have other prices and dificulties. You can learn more about unclog drains in our unclog main drain line service page.
Why Customers Choose our Plumbers 24x7 to unclog toilet in Broward?
If you are looking for plumbing services, then something has surely gone wrong in your toilet. At plumbers 24x7, we understand how severe a plumbing issue can be.
Reasons for Hiring Plumbers 24x7
Safety - Plumbing can be dangerous for you if you do not have the skills to manage the operation, leading to serious consequences. However, with us at your service, you can rest assured of your safety.
Experience - Our team has years of experience, and we understand the in-depth issues and resolve the problems accordingly.
Work with the Right Tools - One of the primary reason customers trust Plumbers 24x7 to unclog their toilets and hire us is that we use the right tools and equipment to deal with plumbing problems and do not make clients wait. You can rely on us for the work, and we will not disappoint you.
Reliable Services - We is fully aware of our job and offer reliable services and understand your problem.
Cost-Effective - An ultimate reason for hiring Plumbers 24x7 is that we provide our clients with affordable and reliable services.
Most Popular cities where we offer unclog toilet services in Broward County:
Unclog Toilet in Cooper City
Unclog Toilet in Weston
Unclog Toilet in Pembroke Pines
Unclog Toilet in Hollywood, Florida
Unclog Toilet in Southwest Ranches
Unclog Toilet in Davie
Unclog Toilet in Plantation
Unclog Toilet in Sunrise
Unclog Toilet in Fort Lauderdale
Unclog Toilet in Coral Springs
Unclog Toilet in Pompano Beach
Unclog Toilet in Tamarac
Unclog Toilet in Deerfield Beach
Unclog Toilet in Coconut Greek
Unclog Toilet in Lauderhill
Unclog Toilet in Hallandale Beach
Unclog Toilet in Margate
Unclog Toilet in Oakland Park
Unclog Toilet in Dania Beach
Unclog Toilet in North Lauderdale
Unclog Toilet in Lauderdale Lakes
Unclog Toilet in Lauderdale-by-the-Sea
Unclog Toilet in Wilton Manors
Unclog Toilet in Lighthouse Point
Unclog Toilet in Pembroke Park
Unclog Toilet in West Park
Unclog Toilet in Hillsboro Beach
Unclog Toilet in Sea Ranch Lakes
Unclog Toilet in Lazy Lake
Unclog Toilet in Sunshine Acres
Unclog Toilet in Pine Island Ridge
Unclog Toilet in Broadview Park
Unclog Toilet in Hillsboro Pines
Unclog Toilet in Boulevard Gardens
Unclog Toilet in Franklin Park
Unclog Toilet in Washington Park
Unclog Toilet in Franklin Park
Unclog Toilet in Washington Park
Unclog Toilet in Roosevelt Gardens
Zip Codes where we offer unclog toilet services in Broward
Broward Zip Codes:
33302, 33301, 33304, 33306, 33305, 33308, 33310, 33309, 33312, 33311, 33314, 33313, 33316, 33315, 33318, 33317, 33319, 33322, 33321, 33324, 33323, 33326, 33325, 33328, 33327, 33330, 33329, 33332, 33331, 33335, 33334, 33336.